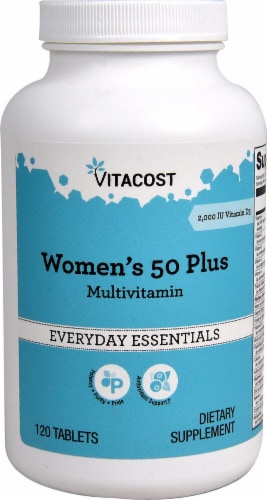 Hover to Zoom
Vitacost Women's 50 Plus Multivitamin
120 Tablets
UPC: 0084419701487
Product Details
Women's 50 Plus Multivitamin is a specially formulated blend of 22 essential vitamins and minerals combined with high-potency botanical extracts to provide optimal nutritional support for women over age 50.
Designed to meet the health needs of mature women, this formula provides 500 mg of calcium, 100 mg of magnesium, and 2,000 IU of the superior form of vitamin D (vitamin D3) per two-tablet serving. In addition to supplying 100% or more of the Daily Value for 20 essential nutrients, Vitacost Women's 50 Plus also features:
Memory Healthy Blend* with choline and phosphatidylserine.
Skin Health Blend* with collagen and hyaluronic acid.
Healthy Aging Free Radical Protection Blend* with antioxidants including green tea extract standardized to 45% EGCG, alpha lipoic acid, resveratrol and bilberry, blueberry, black currant and elderberry extracts.
Additional antioxidants including lycopene, lutein, zeaxanthin, astaxanthin, inositol, cranberry concentrate and more.
What are the key benefits of Vitacost® Women's 50 Plus Multivitamin?
Supplies a good source of powerful antioxidants (such as vitamins C and E plus green tea, alpha lipoic acid, selenium and more) that can help protect the body's cells from free radical damage.*
Each serving contains 2,000 IU of vitamin D3 because vitamin D deficiency is common among post-menopausal women.
Contains vitamin K to promote strong bones.*
s 50 Plus Multivitamin your everyday essential?
Specially designed to meet the health needs of women over age 50.
Contains
*These statements have not been evaluated by the Food and Drug Administration. This product is not intended to diagnose, treat, cure, or prevent any disease.
---