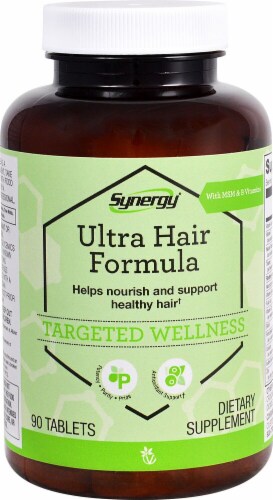 Hover to Zoom
Vitacost Synergy Ultra Hair Formula with MSM & B Vitamins
90 Tablets
UPC: 0084419701586
Product Details
Ultra Hair Formula is a premium-quality blend of essential vitamins and minerals—plus herbs, amino acids and other nutrients—to help nourish and support healthy hair.* Some key ingredients include:
MSM (methylsulfonylmethane): An organic form of sulfur, a mineral found in many body tissues. Although most exists in muscle and joints, sulfur is also present in keratin, a structural protein that makes up hair.
L-Cysteine: A naturally occurring, sulfur-containing amino acid found in many protein-rich foods. L-cysteine is also a component of keratin.
L-Methionine: Another sulfur-containing amino acid (used by the body to manufacture L-cysteine). Also functions as an antioxidant.
Horsetail extract: Ancient herb that contains silica, an organic form of the mineral silicon. Silicon is a trace mineral found in the outer shaft of hair strands.
Inositol: A vitamin-like substance found in cell membranes throughout the body. As an antioxidant, inositol helps protect healthy cells throughout the body—including hair follicle cells—from free radical damage.
Provides 20% phosphatidylcholine (a fat compound found in cell membranes) and other unsaturated fatty acids.
B Vitamins: Water-soluble compounds essential for normal growth and development. Play a part in nervous system function, cellular energy production and much more.
What are the benefits of Synergy Ultra Hair Formula with MSM & B Vitamins?
Supplies 14 essential vitamins and minerals
Good source of MSM (organic sulfur). Sulfur is an important constituent of keratin, a structural protein in hair
*These statements have not been evaluated by the Food and Drug Administration. This product is not intended to diagnose, treat, cure, or prevent any disease.
---