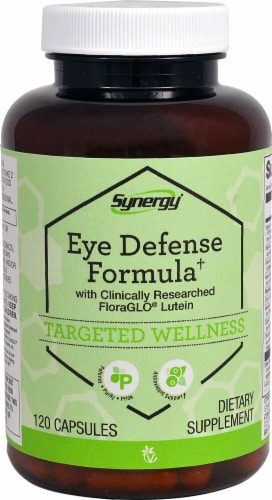 Hover to Zoom
Vitacost Synergy Eye Defense Formula†
120 Capsules
UPC: 0084419701665
Product Details
What is Eye Defense Formula?
Eye Defense Formula is a combination formula providing a variety of nutrients to support eye health.* Included are antioxidants such as vitamins A, C and E, plus nutrients known for their role in helping to maintain healthy vision, including:*
Lutein and zeaxanthin, members of the carotenoid family (nutrients found naturally in the macula of the human retina). The macula, located in the center of the retina, is responsible for producing the sharp, central vision needed to see fine detail (for reading, sewing, etc.).
Natural mixed carotenoids as Betatene®, a high-quality, patented mixture of carotenoids extracted from nutrient-rich algae. Carotenoids have long been understood to play an important part in eye health because they're concentrated in the macula and have an antioxidant role.*
Bilberry, a close relative of the blueberry and a natural source of biologically active components, including anthocyanosides. Anthocyanosides are antioxidants.
What are the key benefits of Synergy Eye Defense Formula?
Each serving supplies 10 mg of lutein, one of the most valuable nutrients for vision support*
Studies recommend taking 6 mg to 20 mg of lutein daily for eye health and antioxidant protection*
Research shows that higher plasma levels of lutein and zeaxanthin may be associated with macular health*
FloraGLO's antioxidants can protect healthy cells from damage caused by free radicals, while also filtering out potentially dangerous, high-energy blue light and ultraviolet radiation from the macula*
Bilberry contains polyphenols and anthocyanidins, which possess antioxidant properties*
Vitamin E supports eye health*
Synergy Eye Defense Formula is a targeted wellness solution - just for you.
Supplies 19 nutrients in one convenient formula
A good sourc
---