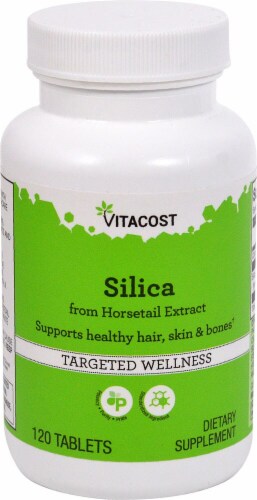 Hover to Zoom
Vitacost Silica - From Horsetail Extract
120 Tablets
UPC: 0084419701593
Product Details
What is Silica?
Silica is a premium-quality supplement featuring standardized horsetail extract, naturally rich in silica and antioxidants. Silica is a common ingredient used in many supplement formulas for hair, skin and nails.
Horsetail (Equisetum arvense) is a primitive, perennial plant closely related to the fern. It has hollow stems, tooth-like leaves and shoots sometimes compared to asparagus. When the plant dries, the branches feather outward and silica crystals form inside the stems. Today, scientists believe the health-promoting properties of horsetail are due to its silica content.*
Silica, also known as silicon dioxide, is a trace mineral. In addition to being formed in dried horsetail stems, it's also found in cereals, rice and grasses. It's also present in small amounts in bones, teeth and other body tissues.
What are the key benefits of Vitacost® Silica?
Adequate silicon intake has been linked to healthy bone density*
Horsetail is comprised of flavonoids, phenolic acids, alkaloids and sterols which may contribute to its antioxidant properties*
Vitacost® Silica is a targeted wellness solution - just for you.
Supplies 500 mg of horsetail extract, standardized to 7% silica, per single-tablet serving
Naturally rich in antioxidant biofloavonoids, including quercetin and luteolin
Contains 120 servings per bottle
Exceptional quality at an extraordinary value!
Potency • Purity • Pride
Plus, all Vitacost® supplements adhere to the FDA's Current Good Manufacturing Practices (CGMPs), ensuring that they are manufactured to high standards
*These statements have not been evaluated by the Food and Drug Administration. This product is not intended to diagnose, treat, cure, or prevent any disease.
---