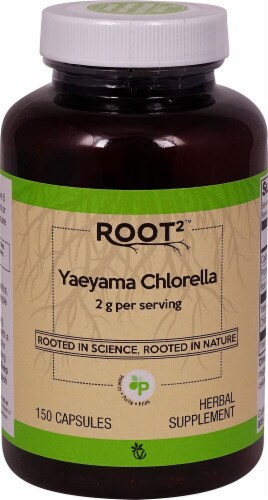 Hover to Zoom
Vitacost ROOT2 Yaeyama Chlorella Herbal Supplement Capsules
Product Details
What is Yaeyama Chlorella?
Yaeyama Chlorella supplies a unique strain of chlorella algae (Chlorella vulgaris) specially cultivated in fresh, mountain spring water from Japan's Ishigaki Island. Processed using a unique, high-impact, jet-spray technique, Yaeyama chlorella cell walls are carefully pulverized to promote increased absorption of algal nutrients.
What are the key benefits of ROOT2 Yaeyama Chlorella?
Chlorella has long been considered a superfood for its rich phytonutrient content, including chlorophyll, vitamins, minerals, carotenoids, antioxidants and protein.
Chlorella supports antioxidant enzyme activity.
Supports healthy maternal micronutrient support during pregnancy.
When chlorella is ingested by a breastfeeding mother, the infant's immune system health is nutritionally supported.
Promotes healthy iron and folate blood levels within the normal range in healthy people.
Nurtures the intestines' ability to capture and excrete environmental contaminants, especially when combined with a healthy, fiber-rich diet.
Maintains a healthy blood pressure already within the normal limits.
ROOT2 Yaeyama Chlorella is Rooted in Science, Rooted in Nature.
Features a premium-quality Yaeyama chlorella
Specially processed to promote easy absorption
Supplies 2 g of Yaeyama chlorella per 5-capsule serving
Contains 30 servings per bottle
Great value!
Potency • Purity • Pride
*These statements have not been evaluated by the Food and Drug Administration. This product is not intended to diagnose, treat, cure, or prevent any disease.
---