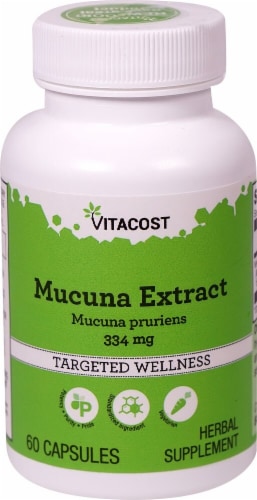 Hover to Zoom
Vitacost Mucuna Extract Targeted Wellness Capsules 334mg
Product Details
What is Mucuna Extract?
Mucuna Extract is a high-quality, standardized extract of the seeds of the Mucuna pruriens plant—a flowering shrub that grows in tropical regions of South Asia, Africa and the Caribbean.
Mucuna pruriens produces long seed pods with edible black or brown beans (also known as "velvet beans"), used throughout history as food, a coffee substitute and in traditional Ayurvedic health practices. Velvet beans are known to be a natural source of the amino acid "dihydroxyphenylalanine," or L-dopa.
Mucuna Extract is standardized to provide 50 mg of naturally occurring L-dopa (from 334 mg of velvet bean extract) per single, vegetarian-capsule serving.
Vitacost® Mucuna Extract is a targeted wellness solution - just for you.
Features a high-quality, standardized extract of Mucuna pruriens seeds
Supplies 334 mg of seed extract, standardized to 15% naturally occurring L-dopa, per single-capsule serving
Features vegetarian capsules
Contains 60 servings per bottle
High quality at an exceptional value
---