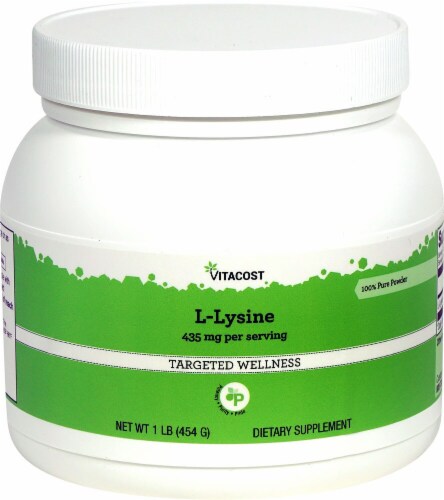 Hover to Zoom
Vitacost L-Lysine Pure Powder
435 mg - 1 lb
UPC: 0084419701430
Product Details
What is L-lysine?
L-lysine is an essential amino acid, meaning the body cannot synthesize it on its own—it must be obtained through diet, mainly from foods high in protein. L-lysine is important for normal growth and development and required for healthy bones, skin, collagen and elastin.*
L-lysine is converted to acetyl CoA, a critical part of metabolizing carbohydrates for energy.* Lysine is also a precursor to carnitine, which helps transport fatty acids into mitochondria for energy production and other functions.*
What are the key benefits of Vitacost® L-Lysine Pure Powder?
Supports immune system function.*
May support a healthy cardiovascular system.*
Supports calcium absorption, making it more available for biological functions.*
Often combined with herbs or other amino acids for complementary effects, such as immune or cardiovascular support or helping to reduce occasional mental stress and anxiety.*
Has an antagonistic relationship with L-arginine, making it potentially useful for reducing arginine levels.*
Vitacost® L-Lysine Pure Powder is a targeted wellness solution - just for you.
Supplies 435 mg of L-lysine per ¼-teaspoon serving.
Contains 822 servings per bottle.
Easy-to-use powder.
Exceptional quality at extraordinary value.
Potency • Purity • Pride
All Vitacost® supplements are formulated to deliver the level of support you expect and deserve. Whether you're shopping Vitacost® vitamins, minerals, herbs or other key nutrients, their potency is guaranteed – what's on the label is what's in the bottle. Plus, all Vitacost® supplements adhere to the FDA's Current Good Manufacturing Practices (CGMPs), ensuring that they are manufactured to high standards of POTENCY, PURITY, efficacy and safety. We take PRIDE
---