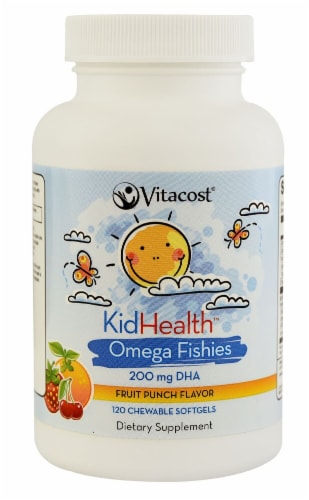 Hover to Zoom
Vitacost KidHealth Omega Fishies For Kids - 200 mg DHA
120 Chewable Softgels
UPC: 0084419701091
Product Details
What is Vitacost KidHealth Omega Fishies for Kids?
Vitacost Omega Fishies for Kids is an easy-to-take, fruit punch-flavored omega-3 essential fatty acid supplement for children. It contains a blend of two important fatty acids, eicosapentaenoic acid (EPA) and docosahexaenoic acid (DHA), derived from purified tuna fish oil. Omega Fishies for Kids is an easy, economical way for kids to increase dietary intake of fatty acids without consuming fish.
How do Vitacost KidHealth Omega Fishies for Kids support health?
Fish intake by children under 14 years of age is only about half a serving per week.
Higher blood levels of omega-3 essential fatty acids may be associated with better health.*
Why choose Vitacost KidHealth Omega Fishies for Kids ?
Provides a blend of two essential fatty acids, EPA and DHA.
A safe alternative to eating some types of fish, which may contain high levels of methylmercury.
Naturally fruit punch flavored.
Contains no artificial colors or flavors.
Each bottle provides 60 servings.
Extraordinary quality. Great value.
About Vitacost
Vitacost nutritional products are manufactured to high standards of quality, efficacy and safety. Each Vitacost product meets or exceeds the standards and requirements set forth in the FDA's Code of Federal Regulation (21 CFR, 111) Current Good Manufacturing Practices (CGMP).
*These statements have not been evaluated by the Food and Drug Administration. This product is not intended to diagnose, treat, cure or prevent any disease.
---