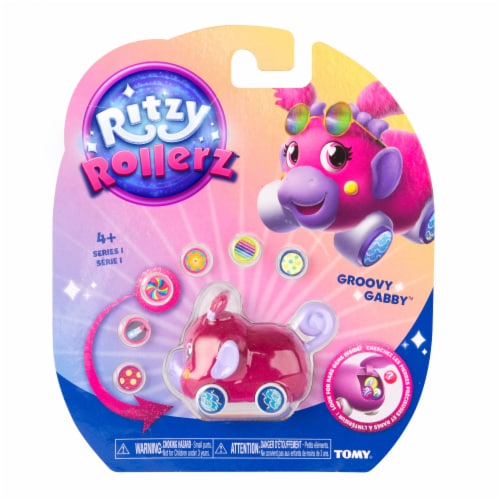 Hover to Zoom
TOMY Ritzy Rollerz Toy - Assorted
Product Details
Assortment may vary by store
Ritzy Rollerz Toy Cars with Surprise Charms, Series 1:
Helena Heelz loves showing off her purr-fectly posh shoe and purse Ritzy Charms. Wearing a shiny purple chrome fashion, she complements the look with a pair of her signature specs.
Donut Dani's sweet treat Ritzy Charms let her add a tasty pop of color to her bright pink and sprinkles fashion.
Frenchy Braid's Ritzy Charms let her add some glitz and glam to her wheels. With long and flowing hot pink hair, she is the only Ritzy Rollerz that has real hair you can brush and style!
Groovy Gabby has a soft purple furry fashion, she loves to travel and wear her Ritzy Charms she collects along the way.
Penelope Paris is wearing a vibrant, translucent blue with a silvery sparkle fashion. She loves flowers and wearing them on her wheels and sharing them with all her friends.

---