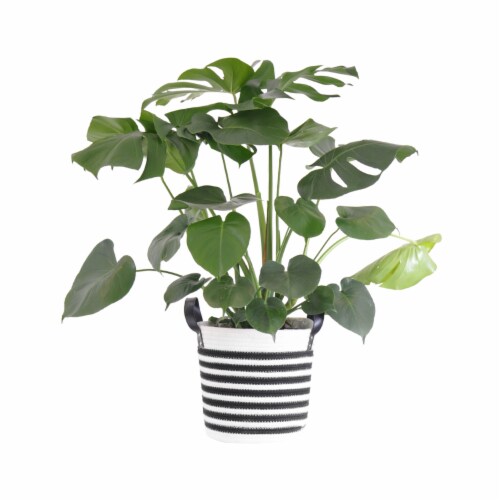 Hover to Zoom
Potted Monstera Deliciosa in Black and White Rope Basket
10-inch pot
UPC: 0084023660526
Product Details
The Philodendron Monstera is an eye catching and easy to care for plant. The Monstera needs medium to bright light and it can adapt well under lower light conditions. Water your Philodendron Monstera well until the water drains from the bottom of the drip holes and allow the top of the soil to dry before watering again. The Monstera's unique characteristics makes it the perfect choice to add a unique decor to your home or office space. Indoor house plants are proven to be excellent air purifiers which help decrease stress and anxiety while stimulating creativity and productivity. Great for yourself or as a gift.
Plant comes in a boho styled black and white stitched cotton rope basketwith water proof liner and matching faux leather straps.
The monstera plant adjusts well to its environment and will thrive with medium to low light, it prefers warmth and humidity and lives comfortably in 65°F to 80°F
We do not ship to California or Arizona due to U.S Department of Agriculture restrictions on tropical plants.
---