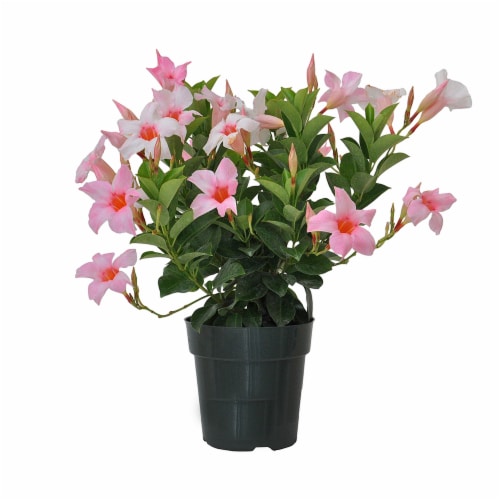 Hover to Zoom
Pink Dipladenia Potted Plant (Approximate Delivery is 2-7 Days)
6-inch pot
UPC: 0081005417803
Product Details
The Dipladenia plant is a durable and attractive easy-care plant. One of the characteristics of the Dipladenia is its ability to attract hummingbirds and bees. The tubular flowers are a vibrant signal to pollinators as ample suppliers of nectar. Dipladenia leaves are fine and pointed, deeply green and slightly glossy. Loves water frequently in the summer but let the top few inches of the soil dry out before watering again. The plant can also go in the ground in warmer areas or stay in a pot during cold winters. With a little luck, even northern gardeners can keep the plant growing indoors until the heat of summer arrives. Great for yourself or as a gift!
Dipladenia needs to be watered lightly, enough to make the soil moist and allowing the top inch of the soil to dry between waterings.
The Dipladenia has small glossy narrow leaves with long stems. Its vibrant leaves create a dramatic presence that add elegance to any outdoor space.
The Dipladenia is a tropical vining plant and it shows off its trumpet like shaped flowers from summer and into autumn.
The Dipladenia's fabulous blooms make it an excellent plant for adding color to any outdoor space to create the perfect look for your outdoor garden.
We do not ship to California, Arizona, Hawaii, Alaska or Puerto Rico. We do not recommend shipping to extremely cold weather states.
---