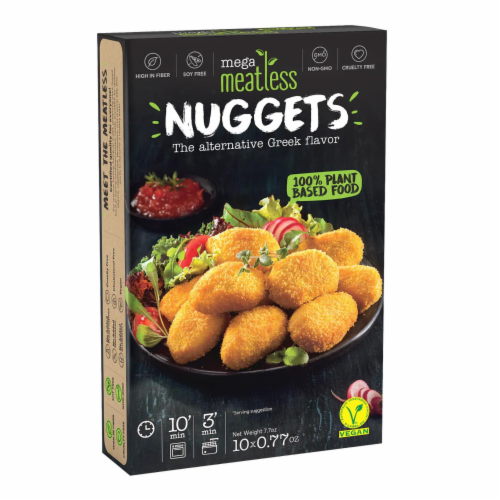 Hover to Zoom
Product Details
MEGAS YEEROS HAS CREATED THE GREEK TASTE OF INNOVATION.

Delicious and perfectly crispy nuggets for both, kids and adults, ideal as a snack or a nutritious meal.

Non-GMO

Vegan

No Added Antibiotics

No Added Hormones

Cruelty Free

Cholesterol

Saturated Fat

Calorie

Fiber

Iron

Calcium

High Potassium

Low Fat

INGREDIENTS

Bamboo fibers, pea protein, water, rice, sunflower oil, vegetable oils and fats (from coconut), natural flavourings, dried yeast, stabilizer (methyl-cellulose).

Breading: Bread crumbs (WHEAT flour, salt, yeast, turmeric powder, colouring (turnmeric E100ii), WHEAT Flour, WHEAT Starch, Salt, Pea Fibres.

Keep frozen. Deep Frozen Product. ONCE DEFROSTED DO NOT REFREEZE. Must be cooked prior to eating.
---