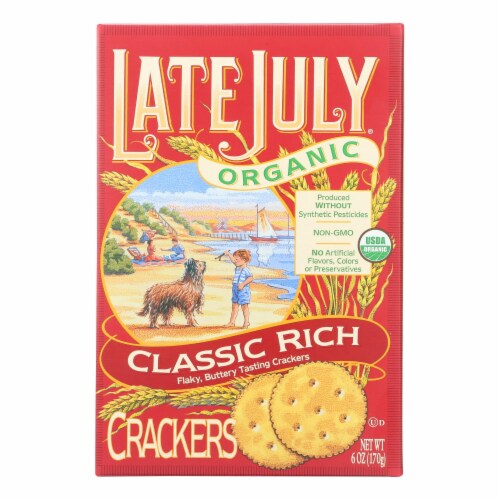 Late July Organic Classic Rich Crackers
Since 2003, we have remained devoted to our mission of ensuring future generations of families have access to delicious food made with organic, non-GMO ingredients, free from synthetic pesticides, chemical fertilizers and antibiotics.
Late July is a moment in time when life is simple, pure and good. It's the sweet spot of summer when you're knee deep in sandcastles and problems are a million miles away. It's also our name and our life philosophy. The boy on the box has grown since we first introduced our Organic Classic Rich Crackers, but he and his little brother are still in daily reminder to live up to our namesake, and produce only certified organic products with ingredients as special and pure as the moments they represent.
Our family has always loved buttery rich crackers and we were thrilled to create the first organic version. Its slightly sweet, toasted taste is perfect by itself and as a complement to any dip. We also recommend crushing them to use as a topping for homemade macaroni & Cheese or whenever a recipe calls for breadcrumbs. We'd love to hear your favorite recipes call for breadcrumbs. We'd love to hear your favorite recipes using one of our products.
Flaky, Buttery Tasting Crackers
Produced Without Synthetic Pesticides
No Artificial Flavors, Colors, or Preservatives
No High Fructose Corn Syrup
No Chemical Fertilizers
Non-GMO
No Trans Fats
USDA Organic
Made In USA
Vegan
Kosher Dairy
---