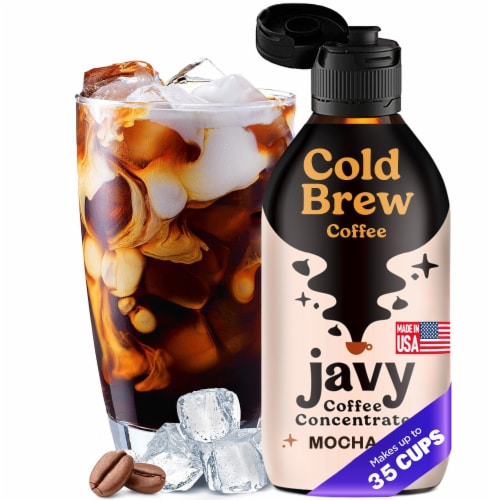 Hover to Zoom
Hover to Zoom
Hover to Zoom
Hover to Zoom
Hover to Zoom
Hover to Zoom
Javy Mocha Cold Brew Coffee Concentrate. 30 Cups Instant Coffee Hot or Cold Brew Beverage
Product Details
CONVENIENT & EASY COFFEE BEVERAGES: Simply pour 1-2 teaspoons of our Javy cold brew concentrate into water or milk and your coffee is ready to go in just seconds. No coffee grounds, no mess, no preparation, and no brewing equipment needed. You can now enjoy your cold brew coffee completely hassle free. Make your own hot or iced coffee at home!

CHOOSE YOUR FLAVOR: You feel like experimenting with coffee flavors? We got you! The yummy cocoa will be the missing puzzle to your instant cold brew coffee. Whether you decide to make a hot or iced coffee, you will enjoy the mocha taste in each and every sip you will take. Use your creativity and start experimenting by making various coffee beverages with our mocha liquid coffee concentrate.

COMMITMENT TO QUALITY: Quality comes first! Javy liquid microdose mocha coffee concentrates are made of ultra-pure water, the freshest beans and yummy cocoa. We are determined to source our ingredients from reliable farmers that produce only organic ingredients and use fair trades. Our artisan roasted cold brew coffee concentrate is so easy to make and has a fresh silky-smooth taste in every pour.

COFFEE GIFTS ARE A THING: Our product is made in USA and does not consist any additives, sugars, or harmful chemicals - just pure flavorful coffee. Being a non-GMO, sugar-free and gluten-free product, makes Javy an ideal and non-risky gift for all the coffee lovers out there. You can never go wrong with a mocha flavored coffee gift!
---