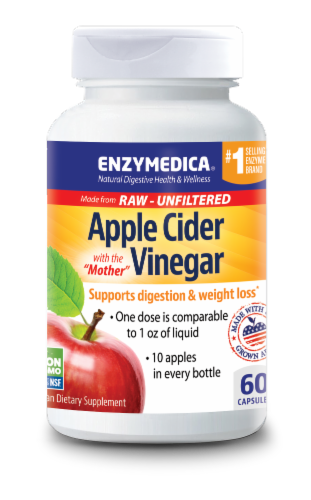 Hover to Zoom
Hover to Zoom
Enzymedica Apple Cider Vinegar Digestion & Weight Loss Capsules
Purchase Options
Located in Pharmacy OTC 5
Product Details
The Power of Nature: Apple Cider Vinegar (ACV) is a traditional folk remedy that has been shown to support digestion and weightloss.
Real Apples: A single bottle of Enzymedica's ACV capsules is produced from10 real, wild picked apples that are pressed and fermented. We strive to provide the greatest benefits intended by nature.
Teeth Friendly: Liquid ACV has been shown to cause damage to tooth enamel. Capsules eliminatethat challenge by bypassing your teeth and delivering the ingredientsexactly where they need to go.
Bad Taste? No Problem: Vinegar isn't always tasty. ACV capsules don't have a bad taste, and are small and simple to swallow. In Apple Cider Vinegar (ACV), "the Mother" is a full spectrum blend of beneficial ingredients.
Every bottle of this product contains capsules made from Apple Cider Vinegar crafted from 10 real, wild-picked apples! Unlike other ACV capsules that may only contain acetic acid without the mother, this formula contains many synergistic compoundsprovided by nature.
*These statements have not been evaluated by the Food and Drug Administration. This product is not intended to diagnose, treat, cure, or prevent any disease.
---