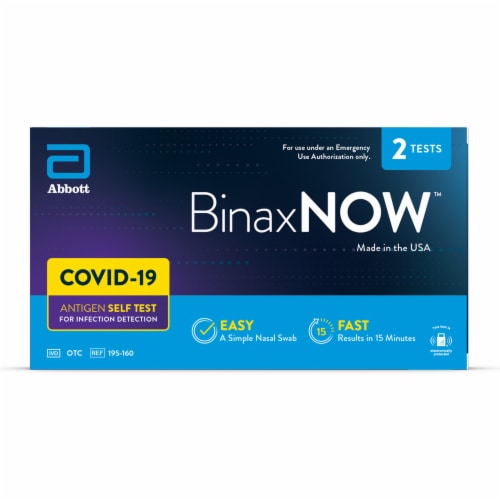 Hover to Zoom
Abbott BinaxNOW COVID-19 Antigen Self Test Kit
Product Details
BinaxNOW COVID-19 Antigen Self Test (2 Tests): A simple solution for COVID-19 infection detection, with rapid results in the convenience of your home. This test has received FDA Emergency Use Authorization for self-testing without the need to ship samples to a lab or for a prescription from your healthcare provider. This 15-minute test can be completed anytime, anywhere.
This product has not been FDA cleared or approved; but has been authorized by FDA under an EUA; 6 Traceability refers to tracing analytical sensitivity/reactivity back to an FDA-recommended reference material.
This product has been authorized only for the detection of proteins from SARS- CoV-2, not for any other viruses or pathogens; and,
This product is only authorized for the duration of the declaration that circumstances exist justifying the authorization of emergency use of in vitro diagnostics for detection and/or diagnosis of COVID-19 under Section 564(b)(1) of the Federal Food, Drug and Cosmetic Act, 21 U.S.C. § 360bbb3(b)(1), unless the declaration is terminated or authorization is revoked sooner.
---